Los Angeles Construction Accident Attorney
Construction zones are inherently dangerous due to the equipment and risk of toxic exposure, putting your safety on the line. Despite following all safety procedures and precautions, a construction accident may still cause life-altering injuries due to the negligence of another. If you or a loved one suffered a serious injury in a construction accident, contact a Los Angeles construction accident lawyer from Pollard | Bailey immediately to discuss your case. You have a right to pursue compensation for your injuries with the help of our lawyers. Call us at (310) 854-7650.
Why Choose a Los Angeles Construction Accident Lawyer at Pollard | Bailey?
At Pollard | Bailey, our Los Angeles construction accident attorneys fight for your right to a full recovery after a tragic construction accident.
We have 40 years of combined legal experience with a proven record of results, successfully securing compensation in more than 96% of cases we have taken on.
We have the resources to provide you with legal support through your entire case, including consulting professionals to assess the true value of your damages and recommending the best medical professionals to treat your injuries.
We regularly monitor our caseload so that we can give all of our clients the one-on-one, undivided attention they deserve.
Your initial, confidential consultation is free, and if you choose us, your case is represented on a contingency fee agreement — you pay no fees until we win your case.
Our injury lawyers in Los Angeles want to help you make a full recovery from your construction accident.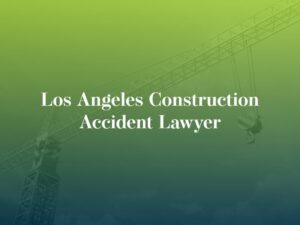 What Are Common Causes of Construction Accidents?
Slips & Falls: If you're working outside, poor weather or road conditions and oil spills create slippery walkways or roads for workers. If you're working indoors, non-stationery mats, obstructed sightlines, tripping hazards, such as unorganized equipment, can also create dangerous working conditions and lead to slipping, fall and/or trip accidents.
Electrocution: Unsecure power lines, exposed electrical parts, poor wiring, and improper operation of equipment are the leading causes of electrocution on the job. Organizations must implement an explicit safety protocol to ensure a safe site and that workers know how to avoid harm.
Injury from Falling Objects: This is the main reason why workers are encouraged to wear safety hats or steel-toe boots while on-site. Working under cranes or heavy machinery and unsecured objects and equipment can lead to a severe injury.
Hit by a Moving Vehicle or Equipment: High-visibility clothing and proper gear are required for construction work. If these precautions are ignored, or someone is negligent while operating equipment, injuries happen.
What Are the Main Types of Injuries Caused by Construction Accidents?
Workers on construction sites who experience any of the above causes can sustain serious injuries, including:
Cuts or lacerations
Broken bones
Eye injury that could cause vision impairment
Loss of hearing
Amputation of fingers, toes, or limbs
Illnesses from breathing in toxic chemicals
Spinal injuries that could lead to paraplegia or quadriplegia
Connect with a Los Angeles Construction Accident Lawyer
Construction workers are entitled to receive payment after sustaining an injury while working on-site. Your best chance of winning a personal injury case is with a dedicated and proven Los Angeles construction accident attorney. Trust us at Pollard | Bailey to argue your case. We will analyze the circumstances of your accident, gather medical records and other evidence, and present your claim for the most advantageous outcome, which often involves taking it outside of the workers' compensation system—a system that limits your recovery to a low amount.
We Have Proven Success With Construction Work Injury Cases
If you have been injured on a construction site, we encourage you to get in touch with our legal professionals. Request a free consultation for your construction accident case in Los Angeles and get the damages you need.
Our office resides in Beverly Hills, but we proudly serve all areas in Los Angeles's surrounding communities including Santa Monica,  Long Beach, Torrance, Pasadena, Pomona, Downey, Inglewood,  West Covina, Lancaster, and more.