Los Angeles Truck Accident Attorney
Eighteen-wheeler trucks pose significant danger if proper care is not taken when driving. Any careless actions by truck drivers, mechanics, or the trucking company itself can cause serious accidents – leading to severe injuries and large-scale property damage. If you or a loved one suffered injuries as a result of a serious truck accident, contact a Los Angeles truck accident lawyer at Pollard | Bailey immediately to discuss your case. You may be eligible for significant compensation for your damages.
|  Click to contact us and book a FREE case consultation today!
How Can We Help You?
Our Los Angeles truck accident lawyers have helped clients successfully secure a full recovery after experiencing a truck accident.
We have more than 40 years of combined legal experience representing clients in all types of truck accidents.
We have the resources to accurately pinpoint any and all causes of your truck accident, including hiring experts and professionals to assess the damage and determine who is liable for your wreck.
In order to help everyone, regardless of their financial situation, we operate on a contingency fee basis — there are no upfront costs, and you do not pay us unless we win your case.
You deserve compensation for your injuries. Let our personal injury lawyers located in Los Angeles help you.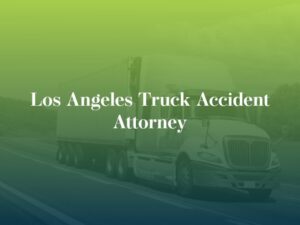 Differences Between a Truck Accident vs. a Car Accident
Truck accidents differ from standard motor vehicle collisions in multiple ways.
Eighteen-wheelers and tractor-trailer trucks are significantly heavier than standard automobiles. This can result in greater force impacting your vehicle in a crash.
Due to their weight, trucks take longer to brake to a full stop. In situations such as rear-end crashes, this may result in a truck impacting your vehicle at a speed much greater than an average automobile.
Multiple parties may be liable for your accident. Although the truck driver may be at fault for the accident, other parties may have contributed to the accident as well. The trucking company may be at fault for improperly securing freight, which can cause the driver to lose control — or a mechanic may be at fault for failing to fix pre-existing problems which led to the accident.
Because a truck accident can be much more complicated than a car collision, it is highly recommended you consult an experienced Los Angeles truck accident lawyer before proceeding with a claim.
What Are Common Truck Accident Causes in California?
Unfortunately, thousands of people every year are involved in truck accidents, oftentimes suffering life-changing injuries. Some common causes for truck crashes include:
Driver Fatigue: Truck drivers drive thousands of miles in short periods of time, often causing driver fatigue. The National Highway Traffic Safety Administration warns the public about the dangers of driver fatigue. Also, truck drivers are paid on a mile-basis, so they make more money driving further distances in shorter periods of time.
Improper maintenance: Semi-trucks are required to be in good condition when they are operating because a lack of maintenance in vehicle parts such as the braking system, tires, and the engine can be a cause of serious accidents.
Distracted Driving
Who is Responsible for Truck Accidents?
Negligence in a truck accident can fall on more than one party. You may be inclined to assume the driver is at fault. Common questions to think about are:
Did they brake harshly or not soon enough?
Did they take a turn too sharply?
Were they not taking sufficient breaks to avoid fatigue?
Was the truck carrying an unsafe or unsecured load?
Was the truck properly maintained?
These are all irresponsible actions that can result in driver liability.
Determining Liability
However, the truck accident may also fall on the manufacturers of the cargo, the owners of the trailer, or the trucking company. Failure to secure the cargo or provide safe means of transport is unacceptable and endangers the life of the driver and others on the road. If the trucking company doesn't perform routine maintenance of their vehicles and equipment or provide sufficient training to drivers, those are also grounds for a claim.
Your Los Angeles truck accident attorneys will help you navigate this case. They will file an accident claim against the liable party to secure the monetary compensation you need to recover from your injuries.
Types of Compensation in Truck Accidents
Being a victim in a truck accident is a serious situation and you'll want to make sure you are properly compensated for a party's negligence.  The three main damages that can be claimed in a personal injury case are economic damages, non-economic damages, and punitive damages.
Economic Damages
The economic damages that can be compensated in a truck collision include:
present and future medical bills
lost income wages
inability to care for family
any other loss that occurs as a foreseeable result from the accident
Non-Economic Damages
Non-economic damages are intended to compensate victims fro any psychological harm incurred from the big rig accident.  Non-economic damages inlcude:
pain and suffering
emotional distress
psychological trauma
Punitive Damages
Punitive damages, also known as exemplary damages, are different than economic and non-economic damages.  This type of damage is assessed to prove wrongdoing or intentional misconduct from the defendant.  Speak to your truck accident lawyer to find out which damages apply to your injury case.
Begin Your Case Today with Our Los Angeles Truck Accident Lawyer
If you've been injured in a truck accident, and you believe the fault lies with the truck driver or another related party, contact us for a free initial consultation. Our Los Angeles truck accident attorneys will help you go through this complex legal situation. Pollard | Bailey works diligently to secure the compensation necessary to make a full recovery.
Seriously Injured in a CA Truck Accident?  Connect with Us Today.
Our office resides in Beverly Hills, but we proudly serve all areas in Los Angeles's surrounding communities including Santa Monica,  Long Beach, Torrance, Pasadena, Pomona, Downey, Inglewood,  West Covina, Lancaster, and more. Get in touch with us today for a FREE consultation and no upfront fees.