Los Angeles Personal Injury Attorney
Being injured due to the negligence of others can create immense hardship in your life — but that is exponentially greater if the injury is catastrophic in nature. If you or a loved one suffered a catastrophic injury in an accident, please contact an experienced Los Angeles personal injury lawyer from Pollard | Bailey at (310) 854-7650 immediately to discuss your case.
Why Choose Us To Be Your Los Angeles Personal Injury Attorney?
At Pollard | Bailey, our Los Angeles personal injury lawyers are committed to securing compensation on your behalf for any serious injuries you suffered as a result of negligence.
We have more than 40 years of combined legal experience successfully representing clients in all types of personal injury cases.
We constantly monitor our workload so that all of our clients receive the undivided attention and care they deserve.
All of our clients are represented by partner-level attorneys through every phase of litigation. You will not be represented by a paralegal or junior associate.
We are always transparent and honest with our clients. We maintain open communication so that our legal strategies are informed by your concerns and needs.
Ultimately, our accident attorneys want you to receive the appropriate level of compensation you deserve to cover the full extent of your injuries and suffering.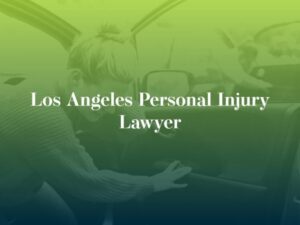 What is Personal Injury Law?
You might be asking, "what type of case is a personal injury?" Personal injury law gives those injured in accidents the right to pursue compensation for any losses that resulted from the incident. Every person and company has a legal responsibility to act in a reasonably safe manner. When someone fails to hold to this responsibility, and that negligence causes an injury, that person may be financially accountable for any resultant damages. If someone is injured as a direct result of another's careless or negligent actions, the responsible party may be sued to cover medical care, ongoing treatment, loss of wages, and more.
In situations where serious accidents lead to catastrophic injuries, it is highly recommended to retain the services of a personal injury attorney. These cases are often more complex, involving more than one party and more comprehensive compensation requests. As a result, it is highly recommended to retain the services of an experienced Los Angeles personal injury lawyer to help you navigate the legal process and maximize your recovery.
Do I Need a Personal Injury Lawyer?
In situations where serious accidents lead to catastrophic injuries, it is highly recommended to retain the services of a personal injury attorney in Los Angeles.  These cases are often more complex, involving more than one party and more comprehensive compensation requests.  As a result, it is highly recommended to retain the services of an experienced personal injury lawyer to help you navigate the legal process and maximize your recovery.
What Are Catastrophic Injuries?
Catastrophic injuries are one of the most severe classes of personal injury. While a variety of characteristics define "catastrophic," in the legal sense, it's an injury that's permanent and severe enough to require long term rehabilitation or deny a person the ability to return to work.
Aside from the emotional and social trauma of suffering through a permanent injury, the biggest consequence of a catastrophic injury is that a person's ability to maintain financial independence is either severely compromised or nullified entirely.
Examples of Catastrophic Injuries
Catastrophic injuries can happen in any number of ways, and some examples of catastrophic injury are:
Amputation
If a person loses one or more limbs, this often results in a catastrophic injury. A construction worker who is injured on-site and loses his hands has a catastrophic injury that prevents him from working in his previous capacity and likely in most other common settings.
Brain Injuries
The brain is the "central control system" of the entire body. It is responsible for our thoughts, memories, and emotions. It also controls voluntary actions, such as our ability to walk, and involuntary reflexes, such as breathing. A traumatic brain injury to any part of the brain can have drastic effects from an inability to concentrate or control emotions to the loss of the ability to use one's arms or legs.
Spinal Cord Injuries
The spinal cord is the thick "cable" of nerves that start at the base of the brain, runs through the back in the spinal column, and stretches out to every part of the body. The spinal cord sends signals from the brain and allows us to move. A compressed, severed, or otherwise damaged spinal cord may result in someone having to permanently rely on a wheelchair to get around or be confined to a bed in the case of quadriplegia, where the limbs no longer function.
Blindness
Humans rely heavily on their ability to see in order to carry out tasks and the activities of daily living. Many occupations work under the assumption that someone is sighted. So, if an accident occurs, such as someone being inadvertently exposed to the bright light of a welding torch or toxic chemicals, resulting in blindness, that will have a serious, negative, and permanent impact on the victim's life and working prospects.
Types of Claims our Los Angeles Personal Injury Attorneys Handle:
Unfortunately, personal injuries can occur anytime and anywhere. However, there are some situations where a catastrophic injury has a higher likelihood of occurring, including:
Car Accidents
A car is a huge piece of machinery, and when it travels at a certain speed, and its sizable mass impacts with something else, the amount of force involved is often devastating in a car accident. This is exponentially magnified with something as large as a truck hauling freight. When these vehicles impact into other vehicles, passengers are seriously injured.
Pedestrian Accidents
While people in vehicles sustain a serious injury during collisions, people who are impacted without the protection of a vehicle are usually injured even worse. A car hitting a pedestrian crossing a street or a cyclist on the road is going to inflict grievous bodily harm on impact.
Construction and Industrial Accidents
Every day, people who work in construction and industrial settings are exposed to much higher levels of physical risk than those in many other occupations. Construction sites are full of structural vulnerabilities and vehicles that can inflict serious harm in a moment of inattention. Industrial areas involve many powerful pieces of hardware, tools, and even dangerous elements like gases and vapors that cause serious injury through exposure.
Defective Products
When consumers buy a product and use it, they trust that the product has been designed, tested and released to the market to work safely as intended. Unfortunately, sometimes, that trust is misplaced. Some products fail to function properly, and this can lead to serious injury and even wrongful death.
What Questions Should You Ask a Personal Injury Lawyer?
It's important that you always consult with an injury lawyer prior to filing a personal injury lawsuit.  Securing compensation for your injuries and other losses is a stressful and difficult process.  Hiring a lawyer that can represent your best interests in an injury lawsuit is the best choice to make for your case.  However, before hiring a lawyer, you'll want to make sure you ask these questions:
Do you work on a contingency fee basis?
Have you tried any personal injury cases related to mine?
Who will handle my case?
Who can I contact at your firm about my case?
What is your success rate?
How a Los Angeles Personal Injury Lawyer Can Help
In a situation where you've been victimized by a catastrophic injury, one that is directly attributable to the carelessness or negligence of someone else, a lawyer is a valuable advocate. Even if an accident is not classed as a crime, the victim of that accident does not have to shoulder the burden of recovery or living a life without gainful employment when it was someone else's actions that caused the injury.
Los Angeles personal injury attorneys can be crucial guides in getting proper financial compensation. That means negotiating for an out-of-court settlement or going into arbitration to determine a final amount. In the most extreme disputes, it requires going to trial and convincing a jury that someone else's recklessness has caused needless pain and suffering. An injury attorney in Los Angeles specializes in this type of law and knows what kinds of evidence and arguments are most compelling and effective.
What Are the Damages I can Recover?
Damages recovered from a personal injury lawsuit vary widely, depending on the severity and nature of the injury. For serious injuries that a person is able to recover from, damages recovered may include money and medical treatment, as well as any lost wages accrued during the healing period.
However, for catastrophic injuries, where returning to work is impossible, damages go up considerably, compensating not just for any past or future medical support required, but for the pain and suffering endured from the trauma of the injury, as well as compensation for any future income or even assets and investments that are permanently affected by the injury.
Were You The Victim of a Serious Injury?
If you have sustained a personal injury and your life has now been permanently, negatively impacted, you don't have to simply adjust to a new, harsh reality on your own. The responsible parties and insurance companies can be held legally accountable for what happened to you. Contact our injury lawyers and explain your personal injury situation. Our team of Los Angeles personal injury attorneys will review your case and find the best possible argument to earn you the compensation you deserve.
Get In Touch for a Free Case Evaluation Immediately
Our office resides in Beverly Hills, but we proudly serve all areas in Los Angeles's surrounding communities including Santa Monica,  Long Beach, Torrance, Pasadena, Pomona, Downey, Inglewood,  West Covina, Lancaster, and more. Get in touch with us today for a FREE consultation and no upfront fees.