Los Angeles Bus Accident Attorney
An accident involving a bus or a common carrier often results in devastating injury or wrongful death for both drivers and passengers. If you've been injured in an accident with a large transport vehicle or while riding in one, contact a Los Angeles bus accident lawyer from Pollard | Bailey immediately to discuss your case. You may be eligible for significant compensation for your Los Angeles injury.  Give us a call at (310) 854-7650 today!
What it Means to Be Represented by a Los Angeles Bus Accident Lawyer
The personal injury lawyers at Pollard | Bailey have the experience, knowledge, and dedication to secure the compensation you deserve from a bus accident.
We don't assign any part of your case to legal assistants and paralegals. Your case is directly handled by partner level attorneys to ensure you receive the best service.
We have more than 40 years of combined legal experience successfully representing clients injured in a bus or common carrier accidents.
We have a proven record of results, successfully securing compensation for our clients in more than 96% of our cases.
We will not hesitate to take your case to trial if it means securing the recovery you deserve.
We operate on a contingency fee basis – there are no upfront costs, and you do not pay any fees until we win your case.
Ultimately, the bus accident lawyers at Pollard | Bailey is here to make the compensation process as easy as possible for you.
|  Click to contact us and book a FREE case consultation today!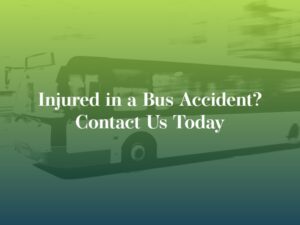 The Common Laws Carriers Are Expected to Follow
In California, common carriers are required to abide by strict guidelines. Failure to comply with any of these rules is due cause for a legal case. Common carrier services and drivers have the following responsibilities:
Maintain the safety of passengers by operating the vehicle in an appropriate manner
Respect passengers, remain attentive to their needs and protect them from harm
Accommodate passengers, especially those who are disabled or elderly and require further assistance
Advise passengers of upcoming threats or dangers
Remove unruly, disruptive passengers who pose a risk of harm
Ensure all drivers are well trained and knowledgeable about operating the vehicle and the expectations when driving and transporting customers or goods
Maintain the upkeep of the vehicle and ensure its safety while in operation
You have a right to compensation for your bus accident when the company fails to provide its employees with the right training, equipment, and working conditions to do their job successfully. We will conduct all necessary investigations to determine if either the company's or driver's negligence leads to your common carrier accident.
Who is at Fault in a Common Carrier or Bus Accident?
When it comes to proving liability in a bus or common carrier accident, we will consider various aspects, some of which include:
Was the driver is distracted, impaired, or fatigued?
Did the driver close a door on a passenger?
Did the driver pull away before a passenger properly boards the vehicle or is completely seated?
Was the vehicle in question defective or poorly maintained?
Did the driver make an illegal or otherwise ill-advised maneuver?
Did the driver fail to follow the rules of the road or posted signs?
Other aspects such as dangerous weather conditions and reduced visibility can also play a significant factor in a collision or accident. We will determine if those effects could have been mitigated by maintenance, defensive driving, or by another means.
Contact Pollard | Bailey for Experienced Los Angeles Bus Accident Attorneys
At Pollard | Bailey, every bus accident lawyer in Los Angeles understands the significant impact a bus or common carrier accident can have on your life, and we want to help. If you or a loved one suffered an injury in a bus or common carrier accident, please schedule a free consultation to discuss your case. We are committed to helping those injured due to negligence receive the maximum possible compensation for their needs.
Our office resides in Beverly Hills, but we proudly serve all areas in Los Angeles's surrounding communities including Santa Monica,  Long Beach, Torrance, Pasadena, Pomona, Downey, Inglewood,  West Covina, Lancaster, and more.