Los Angeles Product Liability Attorney
If you or a loved one has been injured due to a defect or flaw in a product, you may be entitled to significant compensation through a product liability claim. Contact a Los Angeles product liability lawyer at Pollard | Bailey to discuss your case with our experienced attorneys. A company has a legal obligation to produce goods that work as intended, and you deserve compensation for your injuries.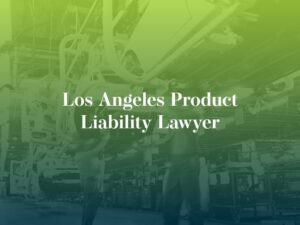 Why Choose a Los Angeles Product Liability Lawyer from Pollard | Bailey?
At Pollard | Bailey, we are dedicated to securing the maximum possible compensation for our clients.
We are dedicated to all of our clients, ensuring they receive service and representation from one of our partners – not a paralegal or junior-level associate.
We have 40 years of combined legal experience successfully representing clients in all matters of product liability law.
Our Los Angeles personal injury lawyers have secured favorable verdicts and settlements for our clients in more than 96% of these cases we have taken on.
We operate on a contingency fee basis — you do not pay any legal fees unless we secure a verdict or settlement on your behalf.
Our product liability lawyers in Los Angeles want to help you fight for the recovery you deserve.
|  Click to contact us and book a FREE case consultation today!
Who is Liable in a Product Liability Case in California?
A product liability case in California, various parties can be held accountable if they fall under the chain of distribution. Therefore, the manufacturer, a company assembling the product or providing parts, supplier, and retailer can all be liable for a defective product.
The state of California has favorable laws to protect consumers in product liability cases. But establish a claim that may be resolved in your favor, your Los Angeles product liability attorney must establish reasonable proof that an entity in the chain of distribution was negligent or deceptive in its delivery of the product to consumers.
What is California's Statute of Limitations?
Under California's statute of limitations, an injury caused by the neglect or wrongful act of a defective product must be commenced within two years of discovery.
What Are the Types of Product Liability Claims?
Manufacturing Defects: A product is considered substandard if its quality or design deviates from the manufacturer's design or specifications. Under California's product liability law, it must be proven that any harm resulted because of the product's inadequacy.
Design Defects: In California, a product is considered flawed if it is operating unsafely, and the disadvantages of the product exceed its benefits. A defective product is typically characterized as dangerous. However, to verify a product liability claim under this classification, the product's lack of safety must be evident.
Inadequate Warning: By law, manufacturers of a product, including those who sell or distribute products, are required to advise consumers on how to use the product correctly. Furthermore, they are also expected to warn consumers of hidden or potential dangers.
Contact the Law Office of Pollard | Bailey for Your Personal Injury Needs
In California, determining fault in a product liability claim often necessitates the expertise of various professionals. Identifying the legitimate cause of a product defect is complex and requires substantial evidence to ground your claim. At Pollard | Bailey, we believe in using our vast resources and connections to design the best possible claim for you.
If you or a family member have endured injury from a faulty product, contact a Los Angeles product liability lawyer from Pollard | Bailey. Our attorneys are experienced with these types of cases, and we will help you to successfully build a product liability claim and receive due compensation.
Our office resides in Beverly Hills, but we proudly serve all areas in Los Angeles's surrounding communities including Santa Monica,  Long Beach, Torrance, Pasadena, Pomona, Downey, Inglewood,  West Covina, Lancaster, and more. Get in touch with our Los Angeles car accident attorney today for a FREE consultation and no upfront fees.
---
Client Testimonial: 5/5
★ ★ ★ ★ ★
Dylan Pollard is an amazing attorney. My husband was severely injured at work due to an equipment failure. Product Liability Cases are generally very difficult to prove and can be expensive, and this case was both. Our case took four years and was successfully settled only after Dylan and his team soundly defeated the manufacturer's complex motion for summary judgment. Dylan has a great gift of breaking down the technical side of a case so it is understandable to the Court and a jury. Dylan also makes himself available to his clients – we never had to make an appointment to speak with him which truly made us feel we were important to him and not just a dollar sign. Dylan is not only a great Los Angeles Attorney, he is our friend, and we highly recommend him to anyone seeking legal representation.
-Kimberly