Los Angeles Wrongful Death Lawyer
Wrongful death is a devastating event and has profound effects on family members left behind. The Los Angeles personal injury attorneys at Pollard | Bailey, we understand that this is perhaps the most painful time in your life. If a loved one has suffered an easily preventable death because of the carelessness of another, you have a right to hold that party financially accountable for their negligent actions. An experienced Los Angeles wrongful death attorney from Pollard | Bailey is here to help fight for your right to secure compensation for the tragic death of your loved ones. Call us today at (310) 854-7650 for a free consultation.
Why Choose a Los Angeles Wrongful Death Attorney?
The wrongful death attorneys at Pollard | Bailey is committed to providing partner-level representation for all of our clients.
We have more than 40 years of combined legal experience successfully securing compensation for clients in a wrongful death claim.
We maintain an open line of communication with all of our clients so that your needs inform our legal strategies.
We manage our caseload so that all of our clients receive the hands-on representation they deserve.
We represent our clients on a contingency fee agreement — you do not pay any legal expenses unless we win your case.
Ultimately, we want to help you receive the compensation you deserve.
|  Click to contact us and book a FREE case consultation today!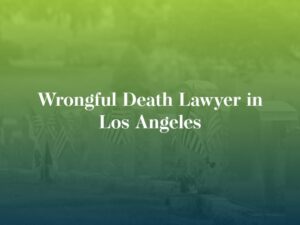 What is Wrongful Death?
Wrongful death is when someone is killed due to another person or business entity's negligence.  This type of lawsuit is a civil action, and is separate from any criminal charges, even if there may be criminal prosecution related to the fatality. In California, the state recognizes a wrongful as a civil lawsuit.
What Are the Common Types of Wrongful Death Cases or Claims?
Wrongful death can occur in any number of ways:
Distracted driving, reckless driving, and drunk driving are the top causes of car accidents in Los Angeles. Many deaths occur as a result of a preventable driver error. Negligent and dangerous behavior behind the wheel is unacceptable, and in the case of drunk driving or a hit-and-run, criminal charges also apply.
Consumers rely on various products throughout the day, but if there is a design defect in a product, its use many times results in injury or even death. When those defects are known and ignored or improperly tested for, you have a case for wrongful death. For example, the Takata airbag scandal that began in 2013 claimed three lives in California and injured many more. The airbags were found not to deploy correctly, acting instead like fragmentation grenades that exploded on drivers and passengers, delivering high-velocity shrapnel, rather than safely inflating to cushion against impact force.
Premises liability covers a range of accidents, but it refers to a property owner's legal responsibility to maintain a safe environment for visitors. When a wrongful death results from a failure to create and maintain a secure and safe space for residents, guests, or any person welcome on a property, there are grounds for a claim for damages and if necessary, a lawsuit.
Who Can File for Wrongful Death in California?
According to the California Code of Civil Procedure 377.60, the victim's personal family or personal representatives, are legally permitted to file a wrongful death suit. These people include the decedent's:
Spouse
Domestic partner
Children
The parents or siblings of the decedent, depending on who is living at the time of death. This only applies if the deceased has no living descendants
How Do I File a Successful Wrongful Death Claim?
In order to successfully file a claim for wrongful death, the survivors of the deceased are prepared to provide proof of death, the negligent act by someone else or an entity that caused the death, the survivors' monetary injury due to the death, and selecting a representative for the deceased's estate.
Contact Our Wrongful Death Lawyers in Los Angeles Today
If you have experienced the tragic death of someone close to you, due to the negligence of another, we want to help you secure a recovery today. A Los Angeles wrongful death attorney at Pollard | Bailey will fight for your rights to compensation while holding any responsible parties accountable for their negligent actions. Schedule a free legal consultation today and let us help you with your wrongful death case.
Our office resides in Beverly Hills, but we proudly serve all areas in Los Angeles's surrounding communities including Santa Monica,  Long Beach, Torrance, Pasadena, Pomona, Downey, Inglewood,  West Covina, Lancaster, and more.