Los Angeles Spinal Injury Lawyer
Injuries to the spine are serious injuries that can change someone's life — serious cases can even involve paralysis, profoundly impacting your quality of life. If you've suffered a traumatic and life-altering spinal injury because of someone's negligence or disregard for safety, contact a Los Angeles spinal injury attorney from Pollard | Bailey today to discuss your options for compensation.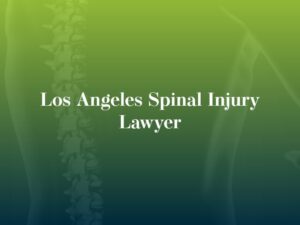 Why Choose a Los Angeles Spinal Injury Attorney?
At Pollard | Bailey, we represent victims of serious personal injuries in order to seek the maximum possible compensation.
We have over 40 years of combined legal experience representing clients who have suffered spinal injuries and paralysis.
Our legal team has successfully secured compensation in more than 96% of all our cases.
We manage our caseload so that all of our clients can receive the attention and representation that they deserve.
We don't want financial hardship to preclude you from proper representation, so we take on all clients on a contingency fee agreement. There are no upfront costs, and you pay no legal fees or charges until we secure compensation on your behalf.
Our personal injury lawyers in Los Angeles are dedicated to providing any help you need in any way that we can.
|  Click to contact us and book a FREE case consultation today!
What is a Spinal Injury?
A spinal injury is one that damages your spinal cord, the thick bundle of nerves that carries messages from your brain to other parts of the body. Because the spinal cord is vital to motor functions, any injury is considered serious, as it can have a major effect on a person's physical capabilities.
It is important to note that a spinal cord injury is different from a back injury. Whereas the former specifically refers to damage to the spinal cord, a back injury more commonly involves damage to the tissues and muscles in your back.
What are the Types of Spinal Injuries?
A spinal injury or paralysis, though less common, can occur in many ways. However, two types of accidents present higher chances of a spinal injury or paralysis.
Vehicular Accidents
Since vehicles have such a large mass and weight, the damage they are capable of inflicting at high speeds is considerable. People inside vehicles, pedestrians, and cyclists are susceptible to severe injuries in an auto collision. High impact collisions, unnatural body positions, extreme force, and even being pinned by objects can cause a spinal injury or paralysis.
Falls
Falls from a great height, such as a construction worker working with insufficient safety equipment on a scaffold, can cause spinal cord injuries. A routine activity like walking down a stairwell can be dangerous as well when the property owner fails to implement safety measures.
Consequences of Spinal Cord Injuries
Impairment
Victims of spinal cord injuries experience a partial loss of motor control, resulting in pain, reduced reflexes, and mobility, or even loss of sensation in limbs.
Paralysis
Depending on the location and extent of the injury, a victim of paraplegia loses complete use of their legs, or worse yet, they suffer severe spinal damage and both their arms and legs no longer respond nerve impulses.
Contact Us Today for Effective Legal Counsel
If you've suffered a spinal cord injury because of someone else's actions or negligence, you don't have to struggle through the recovery. Get legal help from a trusted Los Angeles spinal injury attorney, Pollard | Bailey. Contact us, so we can evaluate your situation, build a case, and hold the irresponsible party accountable. Call us today at (310) 854-7650.
Our office resides in Beverly Hills, but we proudly serve all areas in Los Angeles's surrounding communities including Santa Monica,  Long Beach, Torrance, Pasadena, Pomona, Downey, Inglewood,  West Covina, Lancaster, and more. Get in touch with us today for a FREE consultation and no upfront fees.