Los Angeles Amputation Injury Lawyer
An accident that led to the loss of one or more limbs is a serious, life-altering event. However, if it occurred due to the negligence of another party, you may be eligible for significant compensation. This is true even if the amputation occurred on the job (where worker's compensation laws will sometimes apply).  The Los Angeles personal injury lawyers at Pollard | Bailey can help you sort through the details surrounding your amputation accident and formulate a claim to get the damages you deserve.  An amputation injury attorney from our Los Angeles firm is dedicated to helping you get the legal resolution you need. Contact us today at (310) 854-7650 for a zero fee consultation.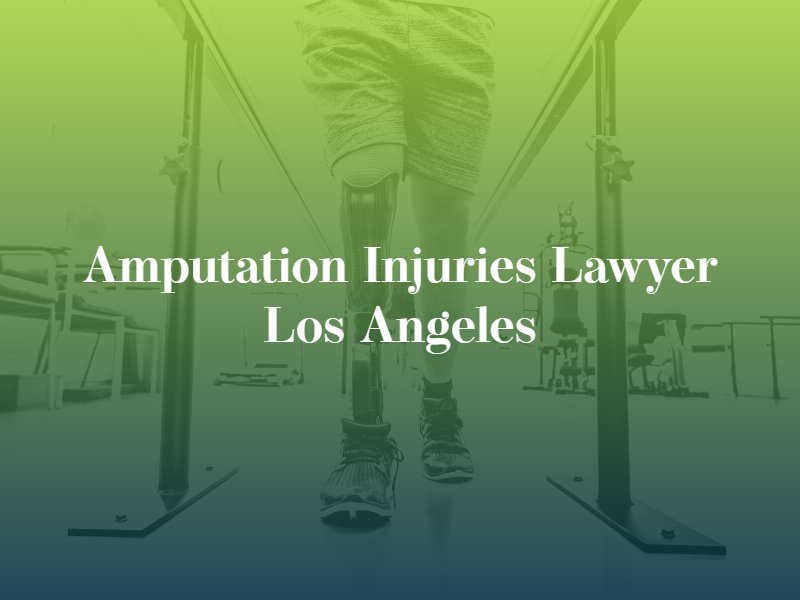 Why Choose A Los Angeles Amputation Injury Attorney?
At Pollard | Bailey, we are dedicated to exceptional representation through experienced, knowledgeable legal counsel.
We have more than 40 years of combined legal experience successfully representing clients in accidents leading to amputation injuries.
We manage our caseload in order to ensure that all of our clients receive the one-on-one attention and representation they deserve.
Our clients are represented by partner-level attorneys — not by paralegals or junior legal associates.
Our attorneys in Los Angeles charge our clients on a contingency fee basis — you do not pay any legal fees until we win a settlement or verdict on your behalf.
The Los Angeles amputation injury lawyers are committed to providing the best representation necessary to secure compensation on your behalf.
|  Click to contact us and book a case consultation today!
What Is An Amputation Injury?
Amputation is the surgical removal of all or part of a limb such as a leg, arm, hand, toe, finger, or foot. According to Web MD, there are about 1.8 million Americans living with amputations. The most common amputation surgery is an amputation of the leg. A reason for amputation in a limb can occur from poor circulation due to nerve damage, a cancerous tumor, frostbite, serious infection, or severe injury from an accident.
Common Accidents Leading to Amputations
Amputation injuries can occur in a couple of ways:
Car accidents
Pedestrian accident
Dog bites
Construction site accident
Product Defect
Crushing Injuries:
This is one of the most common causes of amputation. Limbs are crushed by excessive force, such as a car accident, vehicle collision or machinery entanglement, and often damaged beyond the point of being surgically repaired or healed.
Cutting Injuries:
A cutting injury happens more commonly in industrial and construction settings. Without proper safety measures in place, a construction injury occurs directly onsite, such as a mishap with a circular buzz saw or another power tool, and even farming environments pose risks when limbs get too close to grass or crop cutting equipment.
What are the Types of Amputation Injuries?
An amputation injury can occur in a number of different situations. Some are due to trauma while others occur due to a disease or an infection. The types of amputation injuries include:
Above the knee
Below the knee
Complete amputation
Distal
Partial
What are the Side Effects of Amputation?
Whether the amputation occurred due to the accident itself, or as a result of medical diagnosis afterward, there are going to be certain long-term consequences.
Impaired Mobility:
Depending on the limb or limbs amputated, a victim experiences an inconvenient or life-altering degree of impaired mobility.
Deep Vein Thrombosis:
Also known as DVT, deep vein thrombosis is a medical condition where blood clotting results in pain, dizziness, shortness of breath, a rapid pulse, and even coughing up the blood. There is a higher risk of DVT in people with amputations of the lower extremities, as the size of the arteries changes after amputation. In some amputation victims, the arteries change in size raises the likelihood of poor blood circulation, leading to clotting and DVT symptoms.
Other Psychological Effects:
Finally, there is a genuine psychological trauma of amputation. Losing the use of legs, hands, arms, or multiple limbs can severely hamper your quality of life – degrading your mental and emotional state in the process. If this is coupled with the inability to return to work, it causes severe emotional and financial harm to the victim and their family.
Damages Recoverable for Amputation Injuries
The economic damages involved in an amputation caused by negligence include medical bills, prosthetic limbs, physical therapy, rehabilitation, lost income, and wages.  Our amputation accident lawyers in Los Angeles are here to offer legal advice, and help you recover from your loss.
Contact Pollard | Bailey for Los Angeles Amputation Injury Representation
Traumatic amputation injuries are one of the most devastating accidents a person can experience. Contact us and let us help if your amputation injuries are the result of someone else's reckless or negligent behavior. A Los Angeles amputation injury attorney from Pollard | Bailey will build a claim to get you the damages you and your family need to move forward with your life.
Our office resides in Beverly Hills, but we proudly serve all areas in Los Angeles's communities including Santa Monica, Long Beach, Torrance, Pasadena, Pomona, Downey, Inglewood, West Covina, Lancaster, and more.
Get in touch with us today for a FREE consultation.