Los Angeles Assault Lawyer
You deserve to feel safe at home, in the workplace, and in public. If a friend, family member, co-worker, or stranger has assaulted you, call Pollard | Bailey to speak with a Los Angeles assault attorney. The team at Pollard | Bailey will commit our time and resources to win your suit and holding your assailant and any other responsible parties accountable.
Why Choose Pollard | Bailey as Your Los Angeles Assault Attorney?
At Pollard | Bailey, our personal injury lawyers will listen to your case, guide you through your next steps, and work diligently to coordinate and fight for your rights.
We have over 40 years of combined legal experience representing victims of assault.
We have a proven record of results, successfully securing favorable settlements or verdicts in more than 96% of our cases.
We closely monitor our caseload, keeping it manageable so that we can provide all of our clients with hands-on service and representation.
Financial hardship shouldn't limit you from exceptional representation. Therefore, we offer our services on a contingency fee basis — there are no upfront costs, and you do not pay any fees unless we win your case.
We want to help you seek justice for your injuries.
|  Click to contact us and book a FREE case consultation today!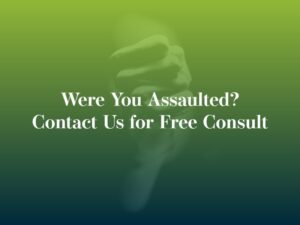 What Types of Assaults Are There?
In the state of California, there are four types of assault:
Simple Assault: "Assault" and "simple assault" are interchangeable and describe any attempt to cause serious physical harm to another person. This term also covers a threat of harm that instills fear in the victim even if no physical contact is made.
Battery: "Assault" and "battery" are often confused with one another, but the terms have distinctly different legal definitions. While assault may constitute a threat with intent to cause harm, battery or simple battery is the act of physically harming another individual. It may not be serious harm, but unlawful contact is made. When the action does not involve a police officer or a protected person, it is considered a misdemeanor.
Aggravated Battery: This form of battery involves inflicting severe bodily harm to another individual. With aggravated battery, there is a clear and willful intent to cause harm.
Assault with a Deadly Weapon: Assault with a deadly weapon involves attacking someone with a weapon that is not a firearm. An attack may also receive this designation if force caused severe bodily harm.
What Are the Damages for Assault and Battery?
Victims that suffered from an assault may be entitled to compensatory or punitive damages. These include but are not limited to:
Emotional distress
Trauma
Pain and suffering
Anxiety or paranoia
Medical expenses
Counseling
Physical scarring
Learn the Laws & Rights of Assault Victims
Regardless of the circumstances that lead to your assault, you have the right to personal safety and security. With the help of our assault attorneys in Los Angeles, you'll get the closure you need to move on from such an event. We believe in transparency with our clients, so we'll advise you on the best course of action for your case, whether that's arguing for a just settlement or advocating your case in court. We will use all our extensive resources to research and acquire experts to support your assault case.
Legal Representation for Assault and Battery Victims
If you have suffered significant injuries or trauma due to assault or battery, contact Pollard | Bailey immediately to discuss your case with an experienced Los Angeles assault attorney. We have a team of high-level, dedicated personal injury lawyers who will treat your case with care. For more information on how our lawyers can help you, contact us at (310) 854-7650 for legal representation. We offer free consultations.
Get in Touch with Our Los Angeles Assault Attorney
Our office resides in Beverly Hills, but we proudly serve all areas in Los Angeles's surrounding communities including Santa Monica,  Long Beach, Ventura, Alhambra, Malibu, Torrance, Pasadena, Pomona, Downey, Inglewood,  West Covina, Lancaster, and more.