Los Angeles Dog Bite Attorney
Dog owners have a responsibility to be in control of their dog at all times and do all that they can to limit their harm to other people. If a dog ends up biting and causing an injury, their owner may be liable for any resultant injuries. If you or a loved one has been seriously injured by a dog bite, contact a Los Angeles dog bite lawyer at Pollard | Bailey immediately to discuss your case. You may be eligible for significant compensation for your injuries.
|  Click to contact us and book a case consultation today!
Why Choose Pollard | Bailey?
At Pollard | Bailey, we are a team of personal injury lawyers in Los Angeles, dedicated to securing compensation for any of your injuries sustained in a dog bite accident.
We have more than 40 years of combined experience representing clients in all matters of personal injury law, including dog bite accidents.
We take a hands-on approach to your case, giving you partner-level representation at every phase of the litigation process.
We have a proven record of success, securing a favorable verdict or settlement in more than 96% of cases take on.
We operate on a contingency fee basis — there are no fees until we secure compensation on your behalf.
We understand the pain, suffering, and emotional trauma a dog bite accident can cause, and we want to help.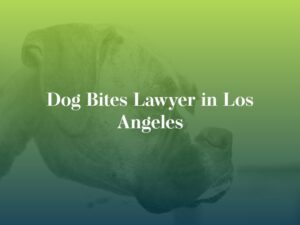 What Dog Bite Laws Are Enforced in California?
Dog owners are expected to be responsible and exercise the necessary caution to limit the potential for dog bites and injuries.
In the state of California, dog bites are enforced by California Civil Code Section 3342. This declares that dog owners may be held liable if:
The damages were caused by a bite from that dog
The affected person was bitten in an area where they were lawfully allowed.
Additionally, California is notably a "strict liability" state when it comes to dog bites. The owner is responsible for all damages from a dog bite, regardless of negligence.
What Are the Exceptions?
Exceptions to this law include:
Any person or group who was bitten while they entered a private place unlawfully.
Someone who is bitten by a dog who is carrying out law enforcement work, such as a police or military dog.
Additionally, this law explicitly only covers bites from a dog. Any injuries sustained by other means, such as scratches and bruising, may not be covered. However, if negligence was involved in such an incident, an experienced dog bite attorney in Los Angeles can argue that owners are nonetheless liable for damages.
Do You Have to Report a Dog Bite in California?
Yes. Dog bites must be reported in California to local health officials.  California also requires dogs to be quarantined after they bite a person.  Once the report is made, the quarantine process will begin to ensure the dog does not carry any diseases such as rabies.  The usual quarantine process can last up to 10 days.
What's the Statute of Limitations on Dog Bite Claims in California?
It's important to note that there is a statute of limitations on dog bite claims. The state of California gives dog bite victims two years from the incident to file a claim for their injuries.
How Do I Proceed to Make a Claim After a Dog Bite?
After a dog bite, the victim and the dog owner are legally responsible for reporting the incident. Following the report, is an investigation, which will confirm the following:
Validate the statement and gather additional information.
Identify the extent of the bite, as well as any existing or forthcoming bacterial or viral diseases.
Discuss any appropriate medical treatments that may be required for the victim.
After the report is completed, the dog will likely be quarantined to determine its risk of transmitting rabies and other diseases.
What Our Los Angeles Dog Bite Lawyers Will Do For Your Case
Your Los Angeles dog bite lawyer will collect this report, your medical records, and any other documents or accounts that prove this dog has a history of biting, that the owner was negligent, or that the dog was trained to attack or kill. Your Los Angeles dog bite attorney will use this information to convey the extent of your pain and trauma, as well as the threat that the dog and owner posed to people in a public space or to those who are welcome on their property.
What Are the Damages in Dog Bite Cases?
Emotional distress
Psychological counseling costs
Lost wages
Medical expenses
Pain and suffering
Reconstructive surgery
Rehabilitation / physical therapy
Paranoia
Contact us for a Free Consultation
If you or a loved one suffered a dog bite injury, please contact Pollard | Bailey immediately to discuss your case with a Los Angeles dog bite lawyer. Our Los Angeles personal injury attorneys understand the gravity of such injuries, and we want to lend our services during this potentially trying time. Contact us today at (310) 854-7650 and see how we can help.
Our office resides in Beverly Hills, but we proudly serve all areas in Los Angeles's surrounding communities including Santa Monica,  Long Beach, Torrance, Pasadena, Pomona, Downey, Inglewood,  West Covina, Lancaster, and more. Get in touch with us today for a FREE consultation and no upfront fees.