Los Angeles Motorcycle Accident Lawyer
Although riding a motorcycle is exhilarating, collisions involving these vehicles have the potential to produce severe injuries and even death. The lack of coverage or protection makes accidents far more dangerous than a standard auto accident. If you or a loved one was injured in an accident, contact a Los Angeles motorcycle accident attorney at Pollard | Bailey to discuss your case. We will help you build a claim to secure the compensation which you and your family need to recover. Call us today at (310) 854-7650.
|  Click to contact us and book a FREE case consultation today!
Why Choose Us?
At Pollard | Bailey law firm, our experienced Los Angeles motorcycle accident lawyers fight for your right to fair compensation.
We have more than 40 years of combined legal experience with a proven record of personal injury case success, securing a favorable verdict or settlement in more than 96% of our cases.
We make sure to consult you before making any legal decisions through the process, ensuring that our case strategy is informed by your concerns and needs.
You will maintain direct contact with our main attorneys — we do not delegate any client needs to paralegals or junior associates.
Your case is handled on a contingency fee basis, meaning you have no upfront costs and only pay legal fees when we win your case.
Our personal injury attorney in Los Angeles are dedicated to fighting for you.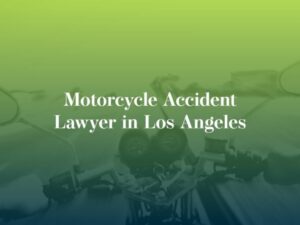 When to Hire a Motorcycle Accident Attorney
Oftentimes, accidents on motorcycles are quite serious, causing a variety of bodily injuries. If you suffered from an accident with expensive medical costs or long-lasting injuries, contact our lawyers who can help strengthen your case against an at-fault party and get you fair compensation.
What Are the Causes of Motorcycle Accidents?
A crash can occur for a variety of reasons. Here are some of the leading causes of motorcycle accidents in California:
Impaired driving (e.g., driving while under the influence of alcohol or drugs)
Driving at dangerous speeds
Not yielding
Riding on the wrong side of the road
Sudden Stops
Inexperienced or unqualified drivers
Vehicle defects
Poor weather or road conditions
What Are the Most Common Motorcycle Injuries?
Motorcyclists are subjected to far more harm in an accident than a standard driver, due to the inherent lack of protection on a motorcycle. Despite protective clothing, a person driving them is nonetheless at a greater risk for serious injuries such as:
Sometimes, these types of accidents can cause fatal injuries to any victim involved. Additionally, insurance companies may be more reluctant to pay out for victims who have suffered injuries in an accident. Due to a stigma that motorcycles are more dangerous and maybe more reckless, some insurance companies may, therefore, argue that they are thus at fault for the accident — despite evidence to the contrary.
At Pollard | Bailey, we can fight for your rights as an injured motorcyclist, ensuring that your case is not dismissed due to questionable reasons.
How Long Do I Have to File a Claim in California?
Every state has a statute of limitations, which is the amount of the time you have to file a lawsuit. The majority of lawsuits must be filed within a certain time frame. If they are not filed in the appropriate time frame, it's likely the legal claim will no longer be valid.
In the case of a California personal injury claim, it can be filed 2 years from the injury. If the injury was not noticed right away, then it's 1 year from the date the injury was initially discovered. Get in touch with one of our Los Angeles motorcycle accident lawyers to ensure your case is viable.
What to Do If You or a Loved One Are in An Accident
Motorcycle accidents can be devastating to your quality of life, and they can have an immediate impact on your family. If you or a loved one suffered a serious accident, contact our Los Angeles personal injury lawyers to immediately discuss your motor accident case. We are committed to securing the compensation you and your family need to make a full recovery. Call today for a free case evaluation.
Connect with Motorcycle Accident Lawyers in Los Angeles
Our office resides in Beverly Hills, but we proudly serve all areas in Los Angeles's surrounding communities including Santa Monica,  Long Beach, Torrance, Pasadena, Pomona, Downey, Inglewood,  West Covina, Lancaster, and more. Get in touch with our Los Angeles car accident attorney today for a FREE consultation and no upfront fees.