Los Angeles Premises Liability Attorney
Every property owner is responsible for the upkeep of their grounds and buildings. That is a requirement by law so that residents, workers, and any other visitors are safe while on the property. If you suffered an injury due to someone's failure to maintain their property, whether it is a residential, business, public, or municipal space, you're entitled to damages through a premises liability claim. Contact a Los Angeles premises liability lawyer today to see how you can receive compensation for your claim.
Why Choose Pollard | Bailey?
At Pollard | Bailey, our personal injury lawyers in Los Angeles are committed to maximizing compensation for those who have suffered an injury due to the negligence of others.
We have more than 40 years of legal experience successfully representing clients in all matters of personal injury law.
We constantly monitor our caseload so that we can provide the best one-on-one counsel for all of our clients.
We've successfully reached a settlement or verdict in favor of our clients in 96% of all cases we represent.
We operate on a contingency fee basis, ensuring that you do not pay any fees until we win your case on your behalf.
|  Click to contact us and book a FREE case consultation today!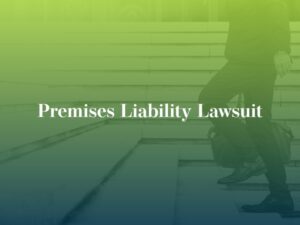 What is Premises Liability?
Premises liability is a legal concept that is involved in personal injury cases.  It comes into play when people get injured by an unsafe condition on someone else's property.
Types of Premises Liability Accidents
Common premises liability claims include:
Slips & Falls: Floors compromised by snow, ice, or liquid spills make walking surfaces unsafe and can often result in bruises, scrapes, fractured bones, and serious head or back injuries.
Swimming Pool Accidents: Swimming pools must be set off with adequate safety measures. Premises liability surrounds any incidents while someone is swimming or in the area of the pool, including injuries caused by the absence of a lifeguard or improper lighting or fencing.
Dog Bites: Property owners who have dogs are expected to control their pets and protect guests against severe bites or clawing.
Asbestos Exposure: Many buildings are composed of materials and compounds that contain asbestos. These insulating materials can lead to serious illness after prolonged exposure.
Other accidents may occur from inadequate security measures, escalator or elevator injuries, fires, amusement park incidents, and more. Get in touch with a premises liability lawyer in Los Angeles to discuss your case.
How is a Property Owner's Liability Determined?
Your legal claim depends on various factors to establish premises liability, including:
Proof that the person responsible for your injury owns the property.
Identifiable harm to the plaintiff that could have been avoided with adequate maintenance and regard for safety.
Evidence that the victim suffered a significant injury.
Proof that the owner breached or violated standards of reasonable care for a property that was open to other people.
There were no signs indicating that the property or site of the accident was unsafe.
Your Los Angeles premises liability lawyer will work to verify the elements and others to substantiate your case.
Contact a Los Angeles Premises Liability Lawyer from Pollard | Bailey Today
If you've been injured on another person or business's property, you have a right to fight for compensation through a premises liability claim. Schedule a free consultation with a Los Angeles premises liability attorney at Pollard | Bailey today to discuss your case.
Our office resides in Beverly Hills, but we proudly serve all areas in Los Angeles's surrounding communities including Santa Monica,  Long Beach, Torrance, Pasadena, Pomona, Downey, Inglewood,  West Covina, Lancaster, and more. Get in touch with us today for a FREE consultation and no upfront fees.