Los Angeles Bicycle Accident Attorney
Whether it's for commuting or recreation, riding a bicycle is a common activity in Los Angeles and California at large. However, an inherent lack of protection makes cyclists susceptible to injury.
If you've been in a bicycle accident, contact a Los Angeles bicycle accident lawyer at Pollard | Bailey today to discuss your case. Our experienced bicycle attorneys have the resources to successfully obtain compensation for your injuries.
|  Click to contact us and book a case consultation today!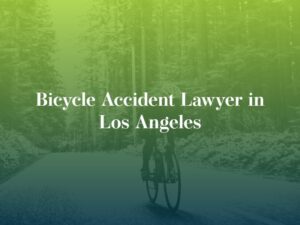 Why Choose a Los Angeles Bicycle Accident Lawyer?
Pollard | Bailey is a team of personal injury attorneys in Los Angeles, who are dedicated to getting you the best possible outcome.
We have more than 40 years of combined legal experience successfully representing clients in all types of bicycle accidents.
We offer a partner-level representation to all of our clients. You will not be delegated to a paralegal or junior-level associates at any point in the litigation process.
We've successfully secured a favorable verdict or settlement in more than 96% of the cases we have taken on.
We operate on a contingency fee basis — you do not pay any legal fees until we win compensation on your behalf.
We understand you may be feeling pain, stress, and frustration at this time. Let us help you.
What Are the California Bicycle Laws?
According to California Code 21200, a person riding a bicycle upon a street or highway has all the rights and is subject to all provisions applicable to the driver. Generally speaking, the same rights and responsibilities of car drivers apply to bicycle riders.
It's important to note that bicycle riders must obey the rules of 21200.5 which states:
No person shall operate a bike on a roadway unless it is properly equipped with a brake
Handlebars on the bicycle should not be raised higher than the operator's shoulders
No person shall operate on a roadway with a bicycle that is a size that prevents the bicyclist from safely stopping the bike
How Long Do I Have to File a Bicycle Accident Claim?
Anyone involved in a bicycle accident in Los Angeles and California has two years to file a lawsuit for damages that may have occurred from a car accident. The two-year time frame is referred to the statutory period. If a lawsuit is not filed within the two-year period from when the accident happened, a judge may bar your claim.
What are the Types of Bicycle Accidents?
There are many types of bicycle collisions that could lead to injury.
Collision Involving a Car Door: A driver parks and neglectfully opens the door without ensuring the way is clear. As a result, a cyclist slams into the door, losing control and flying over the door.
Driver Making a Turn: A driver doesn't see the cyclist in the path to making a left turn. As for right turns, collisions with cars occur when a cyclist is in the driver's blind spot, or a right turn cuts off the proceeding cyclist.
Distracted or Impaired Driving: Lack of attention while driving or driving while under the influence are two of the most pervasive causes of accidents. The inability to make quick judgments often leaves drivers at fault for sideswiping, cutting off, or hitting a cyclist.
Other potential causes for a collision can stem from motorists ignoring traffic signs, bikers riding against traffic, road or weather conditions, speeding, or general negligence.
Most Common Bicycle Injuries
If you were involved in a bicycle accident, it's likely you suffered from injuries. The most common injuries include:
Abrasions
Fractures
Lacerations
Contusions
Treating Your Injuries is Important for Your Bicycle Accident Case
If you have been involved in a bike accident, it is imperative that you seek medical attention, regardless of the severity of the collision or your injuries. First, this step is important to ensure your safety. You may be in shock after the accident and are therefore unable to accurately assess your well-being. A doctor can run the appropriate tests needed to check for broken bones, lacerations, whiplash, and other bicycle accident injuries.
Second, your medical records are essential pieces of evidence for your Los Angeles bicycle accident attorney. These records will be used to establish the extent of your injuries, as well as to set the amount of compensation you deserve for treatment and recovery. We will ensure that your bicycle case is heard and present all of the appropriate evidence for a favorable result.
Contact Our Bicycle Accident lawyers in Los Angeles to Win Your Case
If you have been involved in a bicycle accident involving a motorist, we encourage you to contact a Los Angeles bicycle accident lawyer. Our accident attorneys will work on your behalf to settle your claim and get you the damages you're entitled to. Call today at (310) 854-7650.
Our office resides in Beverly Hills, but we proudly serve clients from all over Los Angeles and Southern California.
Other areas we serve:
Santa Monica, Long Beach, Torrance, Pasadena, Pomona, Downey, Inglewood, West Covina, Lancaster, and more.  Get in touch with us for a FREE consultation and no upfront fees.